Here is another submission for the Flat Fold Invention Competition. This is called the "Skinny Neat Fold" from Monica at Crunchy Monica. Go ahead and give this fold a try!
Here's a picture tutorial of the Neat Fold, modified:
Step 1: Lay out flat diaper with point down. (El never fails to jump on any laid out fabric!)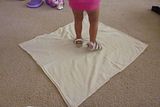 Step 2: Fold up bottom corner towards middle.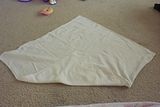 Step 3: Fold top corner towards middle.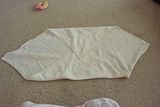 Step 4: Take left corner and fold across so that top edge of "flap" aligns across top of folded section.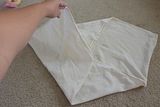 This is what the flat should look like.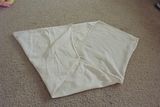 Step 5: Repeat step 4 with the right side. This is actually the end of the steps needed to make the traditional Neat Fold but I'm not a big fan of how bulky the middle is and prefer a thinner crotch area.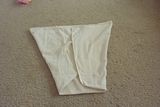 Step 6: Fold in left side towards middle.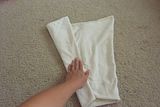 Step 7: Fold in right side towards middle.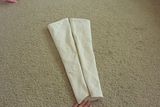 Step 8: Pull out left corner.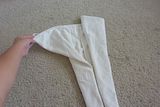 Step 9: Pull out right corner. (Notice the great "poop pocket" this creates.)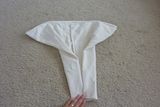 Step 10: Lay baby on top of diaper and pull center panel up.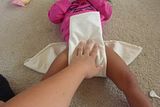 Step 11: Fold down rise, if needed.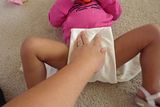 Step 12: Pull up right corner and "roll in" to make for a trimmer fit across hip, if desired. (This will create more of a "bikini cut" rather than a "boy short" cut.) Pull "tab" across middle.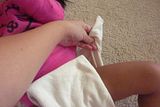 Step 13: Repeat step 12 for left side.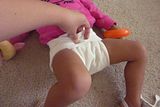 Step 14: Adhere snappi fastener. Done!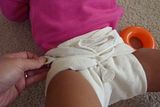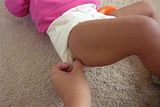 I like to check each side for any gaping and will roll in any loose edges.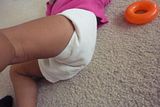 Notice the nice tight fit.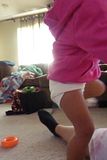 A very trim fluffy bum!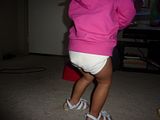 Back side, showing the "poop pocket."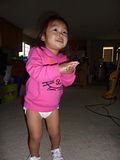 Trim fit through the crotch.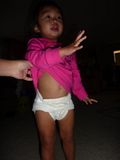 Another front view.